Main Parameter:
[Senwei-Power series PV charge controller] is a smart PV controller designed for large off-grid PV power system. It can manage battery to charge and discharge by controlling multiway of solar cells. And also automatically control solar cell cut or connect ordinally according to the change of battery voltage.This controller makes a full advantage of solar cell resource and also keep battery safe and reliable.
To meet different power stations' need, there are 24V、48V、96V、120V、240V and other normal series voltage level base on different battery voltage of off-grid PV power station system project.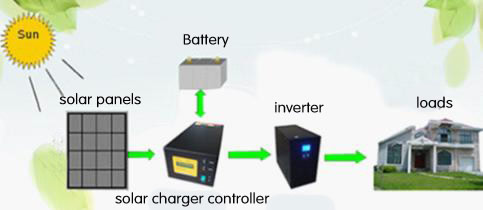 Controller Power Applications Base Station
l Independent Home PV power station
l Telecommunication Base Station System, Highway intelligent monitoring system
l Outdoor advertising Project, Government demonstration project, Landscape lighting Projects
l Island fisherman, remote mountain areas, border post and other PV power station
Product Picture
Product Feature
n MPPT charge function, maximize PV charge efficiency 30% more than PWM method
n Common anticathode, multi-ways solar cells input control
n LCD display, browse system running dynamic parameter
n USER can set up charge discharge voltage point by using KEY-PAD
n Protect Multiple function, multi-protect and warning function
n Optional RS485/RS232 port easy to remote control
n Anti-rust steel housing comply with IP65 protection class.
n Equip with standard water-proof connection terminator
[Optional function]
1. Optional RS232/RS485 or other communication interface
2. Temperature Compensation function
3. lightning protection device
4. Controller DC power supply function
[ Protect Function ]

Sollar cell reverse connection protection, reverse current protection at night, battery over-charge, over discharge, over-load, shirt circuit protectin and warning.

[ Purchase Tips ]
Please advise the following information while purchase solar controller:
1. Total PV power of solar panel, array of solar cell, controller accept 1 line, 2 lines, 4 lines
2. Rated voltage, rated current and open-circuit voltage of each solar panel
3.Rated battery voltage
4.Whether need power output function on this controller.
[ 24VDC series specs parameter ]
Model no.

SWC-24-50A

SWC-24-100A

SWC-24-150A

SWC-24-200A

Max PV power

3KW

5KW

8KW

10KW

PV array Input Control Line

1

2/4

2/4

4

Max. current of each PV array line

≤75A

≤75A/50A

≤120A/75A

≤75A

Rated current of each PV array

50A

50A/25A

75A/37.5A

50A

Battery overcharge voltage

(out of factory default voltage)

28.8V

Overcharge recovery voltage

(out of factory default overcharge voltage)

26.0V

Over discharge voltage

(out of factory default Over discharge voltage)

21.0V

over-discharge recovery voltage

(out of factory default Over discharge voltage)

25.0V

Free-load current

≤100mA

Temperature Compensation (optional)

4mV/℃/2V ,–35℃--+80℃ ,precision:±1℃

operating ambient temperature

-20~+50℃/35~85%RH( but free from condensation )

Working height above sea level (m)

≤5000(according to GB/T3859.2 derating use

when sea level above 1000m)

protection type

reverse current protection at night, Sollar cell reverse

connection protection, battery over-charge and over

discharge protection, battery anti-reverse connection

level of protection

IP20

Dimension (L * W * H)

420mm X 490mm X 150mm

Net weight

18.0KG
[ 48VDC series specs parameter ]
Model no.

SWC-48-50A

SWC-48-100A

SWC-48-150A

SWC-48-200A

Max PV power

3KW

5KW

8KW

10KW

PV array Input Control Line

1

2/4

2/4

4

Max. current of each PV array line

≤75A

≤75A/50A

≤120A/75A

≤75A

Rated current of each PV array

50A

50A/25A

75A/37.5A

50A

Battery overcharge voltage

(out of factory default voltage)

58.8V

Overcharge recovery voltage

(out of factory default overcharge voltage)

56V

Over discharge voltage

(out of factory default Over discharge voltage)

42.5V

over-discharge recovery voltage

(out of factory default Over discharge voltage)

47V

Free-load current

≤100mA

Temperature Compensation (optional)

4mV/℃/2V ,–35℃--+80℃ ,precision:±1℃

operating ambient temperature

-20~+50℃/35~85%RH( but free from condensation )

Working height above sea level (m)

≤5000(according to GB/T3859.2 derating use

when sea level above 1000m)

protection type

reverse current protection at night, Sollar cell reverse

connection protection, battery over-charge and over

discharge protection, battery anti-reverse connection

level of protection

IP20

Dimension (L * W * H)

420mm X 490mm X 150mm

Net weight

18.0KG
[ 96VDC series specs parameter ]
Model no.

SWC-96-50A

SWC-96-100A

SWC-96-150A

SWC-96-200A

Max PV power

5KW

10KW

15KW

20KW

PV array Input Control Line

1

2/4

2/4

4

Max. current of each PV array line

≤75A

≤75A/50A

≤120A/75A

≤75A

Rated current of each PV array

50A

50A/25A

75A/37.5A

50A

Battery overcharge voltage

(out of factory default voltage)

116V

Overcharge recovery voltage

(out of factory default overcharge voltage)

110V

Over discharge voltage

(out of factory default Over discharge voltage)

86V

over-discharge recovery voltage

(out of factory default Over discharge voltage)

92V

Free-load current

≤100mA

Temperature Compensation (optional)

4mV/℃/2V ,–35℃--+80℃ ,precision:±1℃

operating ambient temperature

-20~+50℃/35~85%RH( but free from condensation )

Working height above sea level (m)

≤5000(according to GB/T3859.2 derating use

when sea level above 1000m)

protection type

reverse current protection at night, Sollar cell reverse

connection protection, battery over-charge and over

discharge protection, battery anti-reverse connection

level of protection

IP20

Dimension (L * W * H)

420mm X 490mm X 150mm

Net weight

18.0KG
[ 120VDC series specs parameter ]
Model no.

SWC-120-50A

SWC-120-100A

SWC-120-150A

SWC-120-200A

Max PV power

6KW

12KW

18KW

25KW

PV array Input Control Line

1

2/4

2/4

4

Max. current of each PV array line

≤75A

≤75A/50A

≤120A/75A

≤75A

Rated current of each PV array

50A

50A/25A

75A/37.5A

50A

Battery overcharge voltage

(out of factory default voltage)

144V

Overcharge recovery voltage

(out of factory default overcharge voltage)

138V

Over discharge voltage

(out of factory default Over discharge voltage)

108V

over-discharge recovery voltage

(out of factory default Over discharge voltage)

115V

Free-load current

≤100mA

Temperature Compensation (optional)

4mV/℃/2V ,–35℃--+80℃ ,precision:±1℃

operating ambient temperature

-20~+50℃/35~85%RH( but free from condensation )

Working height above sea level (m)

≤5000(according to GB/T3859.2 derating use

when sea level above 1000m)

protection type

reverse current protection at night, Sollar cell reverse

connection protection, battery over-charge and over

discharge protection, battery anti-reverse connection

level of protection

IP20

Dimension (L * W * H)

420mm X 490mm X 150mm

Net weight

18.0KG
[ 240VDC series specs parameter ]
Model no.

SWC-240-50A

SWC-240-100A

SWC-240-150A

SWC-240-200A

Max PV power

12KW

24KW

36KW

48KW

PV array Input Control Line

1

2/4

2/4

4

Max. current of each PV array line

≤75A

≤75A/50A

≤120A/75A

≤75A

Rated current of each PV array

50A

50A/25A

75A/37.5A

50A

Battery overcharge voltage

(out of factory default voltage)

288V

Overcharge recovery voltage

(out of factory default overcharge voltage)

264V

Over discharge voltage

(out of factory default Over discharge voltage)

216V

over-discharge recovery voltage

(out of factory default Over discharge voltage)

230V

Free-load current

≤100mA

Temperature Compensation (optional)

4mV/℃/2V ,–35℃--+80℃ ,precision:±1℃

operating ambient temperature

-20~+50℃/35~85%RH( but free from condensation )

Working height above sea level (m)

≤5000(according to GB/T3859.2 derating use

when sea level above 1000m)

protection type

reverse current protection at night, Sollar cell reverse

connection protection, battery over-charge and over

discharge protection, battery anti-reverse connection

level of protection

IP20

Dimension (L * W * H)

420mm X 490mm X 150mm

Net weight

18.0KG